Your next event will be hybrid
I am writing this article in June 2021, perhaps one of the most uncertain phases of the pandemic ever.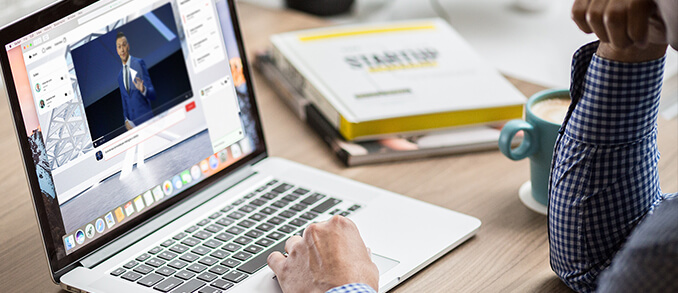 I am writing this article in June 2021, perhaps one of the most uncertain phases of the pandemic ever.
These are tough times to plan an event and, even if it seems that the situation is improving, there are many questions we're all asking to ourselves: what if there's another lockdown? Will customers feel up to coming? What if the fair cancels the event?
Vaccines are in wide release. Everyone hopes they will work and that next autumn will be a normal one... but few believe this completely. Despite the fact that the pandemic has accustomed us to use the potential of new tools - which I personally considered very effective even before their forced spread - the return to physicality is more and more desired.
...In light of this situation, which can be the most concrete scenario?

In my personal vision, I believe that, in 2022, travel will still be complicated and risky.
Plus, let's remember that the closing of the annual account for the financial year 2020 has shown companies how it's possible to do business without travelling, an aspect that should not be underestimated.
Therefore, traveling will no longer be for everyone but only for a select group of people: the decision makers, as they say.
Yes, I mean it! Traveling will be a "VIP thing".
Corporate events, including trade fairs, must therefore be designed to generate a strong impact on users in attendance, an experience that needs to generate unique sensations that will hardly be forgotten.
What about all those people who can't come? It's essential to reach and involve them too.
In fact, it's thanks to our virtual audience that we can spread the message and largely communicate the quality of the product we want to sell.
Which are the best tools to work with in this uncertain context?
Certainly the strategy of combining an in-person event with a digital alter ego protects us from various limitations and last-minute cancellations due to the pandemic. Those who wanted to participate in presence will simply participate from home and those who do not feel like it or cannot travel will have already chosen to take the first route.
But it's not simply by streaming the event that you engage people from home. The rhythms and times of an in-person event are totally different from those we are used to in digital communication.
Engagement is in fact very complex, especially when it needs to be through a screen. That's why we need to integrate the physical event with innovative digital technologies and tools, generate original content and specific customer journeys that don't exclude either the audience in presence or the one following us from remote.

Which are the benefits of a hybrid event?
A hybrid event gathers both the advantages of a physical event and those of a virtual event, becoming the ideal solution for all those companies that consider Customer Experience a corporate value.
The main benefits are:
Customer Engagement. With the hybrid event it's possible to engage and connect with customers and prospects who may have had difficulty attending the live event
Increased Brand Awareness
Increased Lead Qualification. Which means that you can be guaranteed to get in touch with anyone who interacted with your content. Both physically, through contact acquisition applications, and digitally, with tools that allow you to filter the accesses, making it much easier to keep competitors' eyes off your content and customize what is viewed.
Having a 360° visibility perspective on the company, the product and the contents
Integration and enrichment of the content and of the user experience
Sensationalism
Measurable ROI and data useful for your corporate marketing strategy
Same cost, more people
In addition, you also get an intangible benefit: the image of modernity that is projected on your company.
What does a hybrid event need?
The spectacular content. Without a strong message to communicate any event loses its power. If you don't have product content, something totally decontextualized but extremely spectacular can often work, such as sponsoring an art installation.
The right technology to effectively integrate the event in presence with the digital event. And with us you are safe!
An excellent direction, qualified audio-video technicians and engaging presenter and speakers. Managing an event like this is a bit like going to the discovery of America, it takes the best and most resilient sailors
A team dedicated to communicating the event and generating valuable content pre, during and post event
In conclusion, we believe that the hybrid event will be the most likely solution for events in the coming years, not so much as an alternative to live participation, which will still be the preferred option in the majority of cases, but rather as an alternative to total non-participation.
From customizable platforms, to technical experts, to the creation of digital content for innovative media, at Applied we have all the ideas and skills to find the most congenial solutions for your company.
Do you have something in mind? Let's make it happen together.